WEBTICKETS CASHLESS SYSTEM
Whether it's at a music festival, bus ride or the school tuck shop, Webtickets' cashless point-of-sale solutions will bring efficiency, savings and innovation to your business. By Owing to design and innovation, this beneficial technology is now available to all clients, no matter how big or small.
---

How does it Work?
Webtickets' cashless system uses NFC technology to operate.
This stands for "Near Field Communication" and, as the name implies, uses short-range wireless transmitters to communicate with other devices.
---
Benefits of the System
Complete transparency on every transaction, drastically reducing theft.
Real time reporting of all sales and income across your event allows unprecedented control.
Dramatically reduced queuing times at key payment areas such as bars and food outlets.
Fast transactions allow greater efficiencies and far simpler account reconciliation for all vendors and partners.
Pre-event offers build new revenue streams and streams and encourages on-site spending.
Integration with brand partner activity creates seamless promotional opportunities.
Reduced cash shortages and theft.
"I felt this was a great system. Not having to deal with cash and credit card machines was a huge bonus. Being able to receive a breakdown of all sales is very beneficial to us." - Lara Meter, Food Goddess CC
---

Understanding your customer and their purchasing behaviour
Merchants will gain valuable insights into their customers' behaviour and spending patterns.
Allows merchants to craft bespoke offers and tailor the product offering to ensure revenue is maximised and stock is readily available.
---

Cards and Wristbands
Webtickets uses a variety of mediums hosted on the cashless system.
Wristbands and cards can all be used as a replacement for cash.
Can also be specifically branded and used across multiple events at a set time.
---

Hardware and Mobile Terminals
By design, the Webtickets cashless system can be used across any NFC enabled mobile phone or tablet, across all major operating systems. Owing to the ubiquitous distribution of these devices, costs have substantially reduced allowing this new technology to be adopted by new segments and clients.
---

Other features include
Multi-level inventory-specific reports generated in real time by zone, merchant, stall or user.
Webtickets' check my balance application makes it easy for users to check their balances and latest transactions.
Loading credit, topping up and cash outs is quick and simple, making the customer's life simple.
Intelligent spending monitor identifies unusual activity or wristband usage.
Options of a closed or open looped system allows event organisers flexibility and choice.
Lost or stolen tags can be deactivated and replaced.
The Webtickets' cashless system operates online and offline, ensuring 100% uptime.
Funds can be withdrawn from account.


---
Security
The app is completely password protected.
Communication between Webtickets' app and hardware is encrypted.
All NFC chips are preloaded with a unique Webtickets algorithm code.
NFC is inherently safer as communication is over a short distance.
---
Click here for the Webtickets Cashless System Terms & Conditions
---
---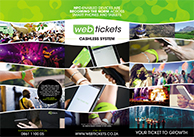 Click here to download our brochure
---